The largest Laravel event of the year, streamed directly to you.
We've put together a full day of talks featuring some of Laravel's brightest minds, and streaming them directly to your home or office.
These talks are brand new and never before presented at any Laracon, including brand new feature announcements from Taylor Otwell, creator of Laravel. All talks are presented live during the event.
Tickets are just $29. Don't miss the largest Laravel event ever!
Website: https://laracon.net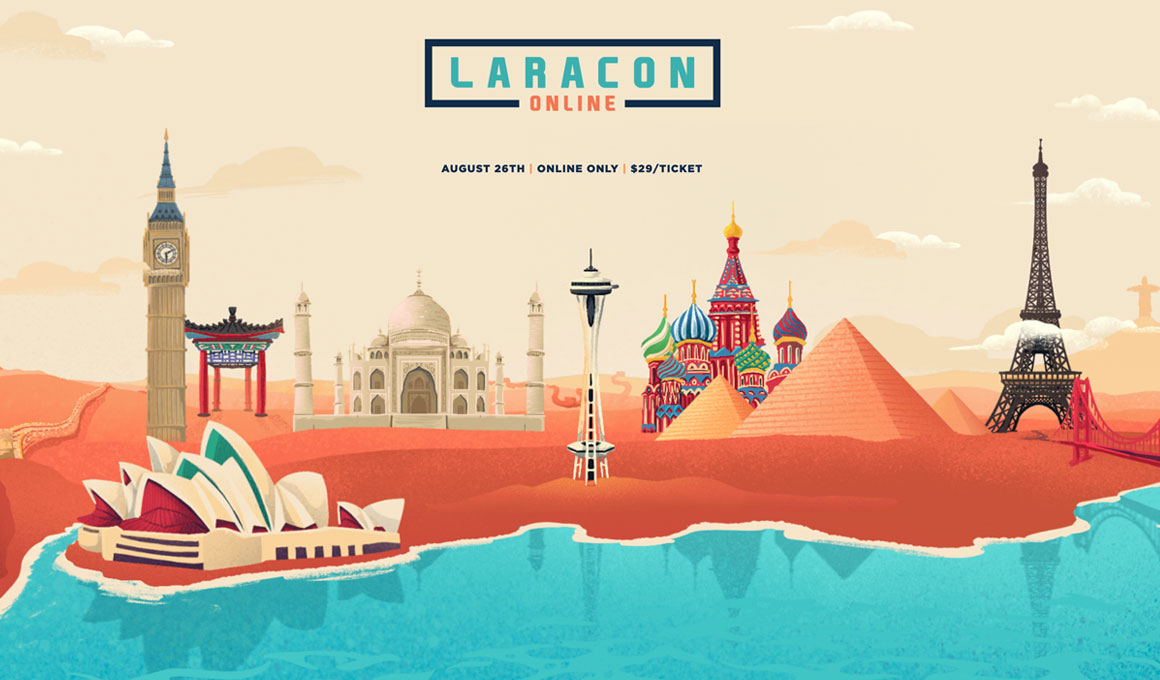 CAN'T MAKE IT ON AUGUST 26TH?
No problem, all talks will be recorded and available online for viewing at your convenience shortly after the conference ends.
SPEAKERS – The leaders in the Laravel community and beyond.
This year we are proud to feature amazing speakers from around the world, including Taylor Otwell and Jeffrey Way. This year's talks are focused on practical, advanced Laravel application development.
Schedule – A supercharged day of learning and being inspired…
Fast-paced, 30 minute talks keep the day interesting as we dive into the Laravel ecosystem and learn sick development techniques to supercharge our skills in Laravel, Eloquent, TDD, Tailwind, and more.
9:50

AM

 

WELCOME

10:00

AM

 

FREEK VAN DER HERTENA RACTICAL LOOK AT MULTITENANCY IN LARAVEL

10:30

AM

 

JENNY SHENBUILD BRIDGES, NOT WALLS—DESIGN FOR USERS ACROSS CULTURES

11:00

AM

 

JONATHAN REININKBUILDING MODERN MONOLITHS WITH INERTIA.JS

11:30

AM

 

JEFFREY WAYHAVE YOU TRIED…

12:00

PM

 

BREAK

12:15

PM

 

TAYLOR OTWELLEXPLORING LARAVEL 8.X

1:15

PM

 

PROSPER OTEMUYIWASUPERCHARGING LARAVEL APPS WITH MACHINE LEARNING

1:45

PM

 

JESSICA ARCHERTHE LARAVEL DEVELOPER'S GUIDE TO VUE SPAS – PART 2

2:15

PM

 

BREAK

2:30

PM

 

MATT STAUFFERDON'T CRY WHEN YOUR DEV DEPENDENCIES DIE

3:00

PM

 

MARCEL POCIOTREFACTORING TO SIMPLICITY

3:30

PM

 

ADAM WATHANBUILDING A COMPONENT LIBRARY WITH TAILWIND CSS

4:00

PM

 

COLIN DECARLOTHE IMPORTANCE OF PRACTICE

4:30

PM

 

BREAK

4:45

PM

 

APRIL DUNFORDPOWER POSITIONING – HOW TO HARNESS A MARKETING SUPERPOWER

5:15

PM

 

CALEB PORZIOALL THE COOL NEW THINGS IN LIVEWIRE & ALPINE

5:45

PM

 

TIM MACDONALDFOLLOW THE ELOQUENT ROAD

6:15

PM

 

JACK ELLISHOW WE SCALED FATHOM ANALYTICS TO HANDLE BILLIONS OF REQUESTS

6:45

PM

 

CLOSING REMARKS