Christmas is already in the air and many of us already see stunning Christmas trees and other decorations all over that help us get into the mood for the holiday season. For some it is way too much, but if you belong to the Christmas lovers it doen't have to stop there. To help you feel the merriment and excitement of Christmas even more, you can use some Christmas apps for your iPhone or iPad.
They are specially created so we can plan and savor the joyous season to the fullest. In this Christmas apps for iPhone and iPad showcase, you will find both free and premium items for your Apple gadget. Whether you are looking for a fun and exciting game application, a gift organizer, a Christmas music app or a just a simple Christmas photo app, you will find this list handy. Check these out and dont forget to share with us your thoughts. Sharing this post to your friends is of course highly appreciated. Enjoy!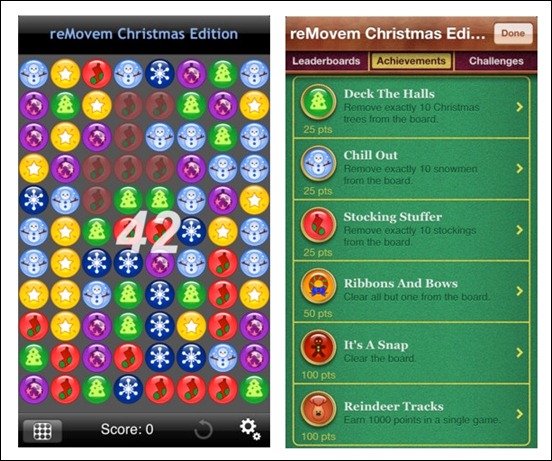 reMovem Christmas Edition is delightfully addictive. This is a special holiday version of the popular reMovem game. It features snowmen, reindeer, christmas trees, stockings, and more. Hours of fun for all ages.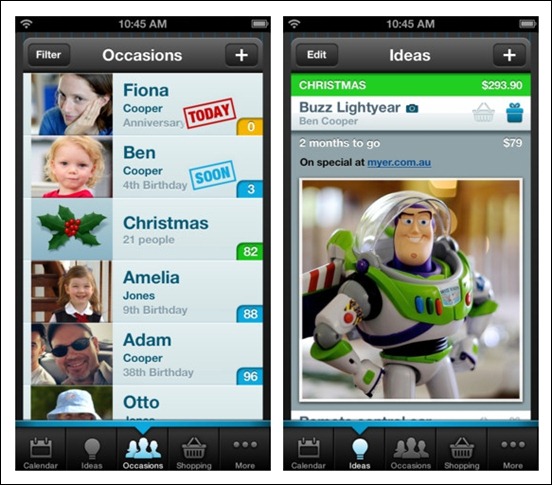 If you're like most people, there have been many occasions when you've been stuck for gift ideas at the shopping mall, you couldn't remember the right clothing size to buy for a loved-one, or even worse, you've totally forgotten about a birthday or anniversary! Gift Plan is here to help.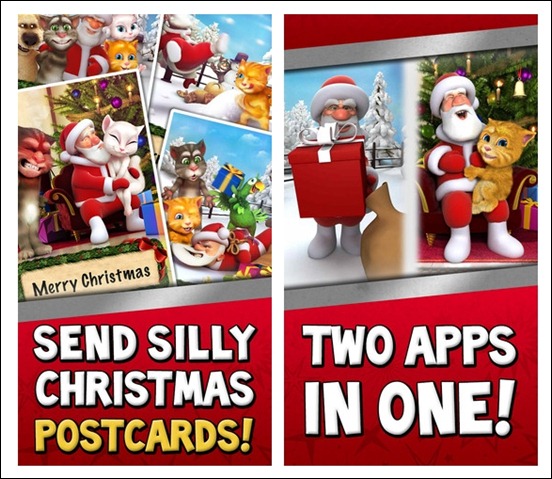 Talking Santa is packed with countless hours of holiday fun for the entire family! Speak into your microphone and listen to Santa repeat your special holiday message aloud. Joined by the lovable characters from the Talking Friends collection, Talking Santa enables you to create and share joyous 3D video animation greetings and Christmas cards that will warm the hearts of everyone on your wish-list!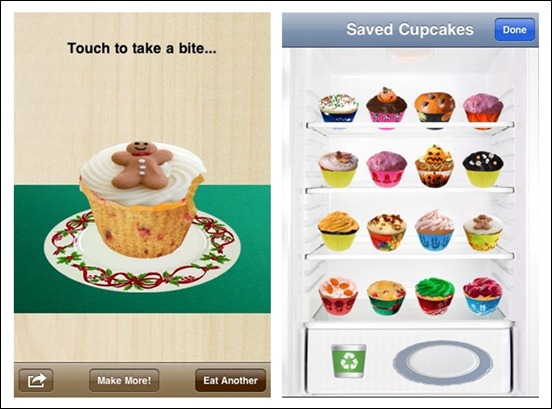 No matter what holiday you are celebrating, from Mother's/Father's Day to Christmas or Halloween, or even birthdays & baby showers, this special holiday edition of the mega-hit Cupcakes! app has you covered. Special themed frostings, cupcake liners, candy, and decorations are here to let you bake, decorate, share, and eat cupcakes on your iPod Touch or iPhone.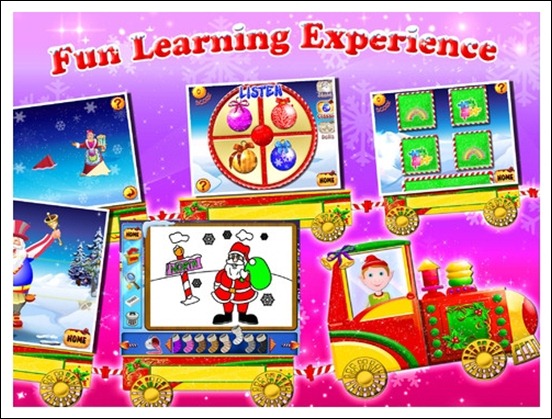 This year Christmas Fun app is better than ever! With 14 fun filled Christmas songs, games and exciting activities. Christmas Fun is the perfect way to bring the Christmas spirit into your home. Sing along with classic songs such as Jingle Bells and Santa Claus is Coming to Town and have hours of laughs with wonderful games such as Simon Santa or Gingerbread Peekaboo. Christmas Fun is an all in one, special edition Christmas app which is fun for the whole family.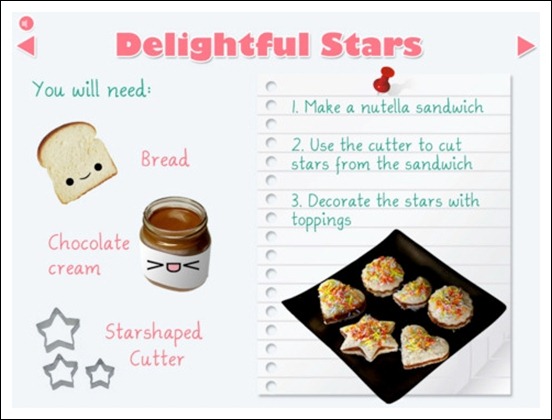 Super Easy Christmas Recipes for Children. Fun and easy recipes to enjoy Christmas with your kids. It also features cute images and funny sounds.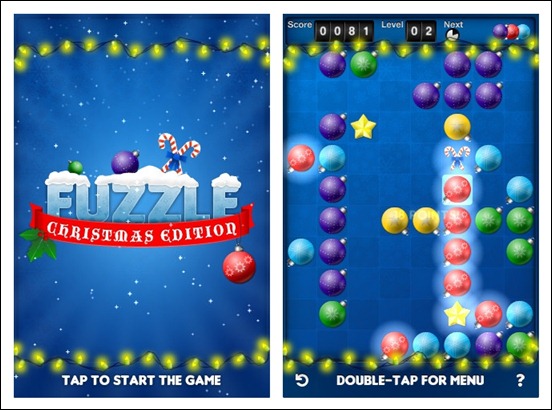 This is the free, Christmas edition of Fuzzle, providing a new Christmas look+music, while allowing you to try the game. Fuzzle is the top-selling, dangerously addictive puzzle game. Both simple to learn, yet challenging to master! Move the balls around the board to create lines of five balls of the same color, thus removing the balls, while after every other move you make, more balls are added. The goal is to keep the board from filling up as long as possible.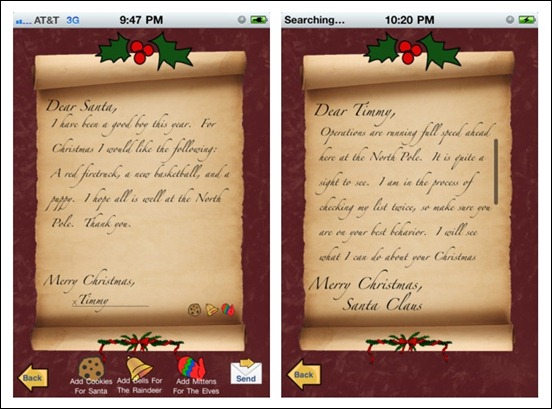 Letters to Santa Claus Free is a wonderful app for all ages. Imagine the joy your child will have when they see the response from Santa.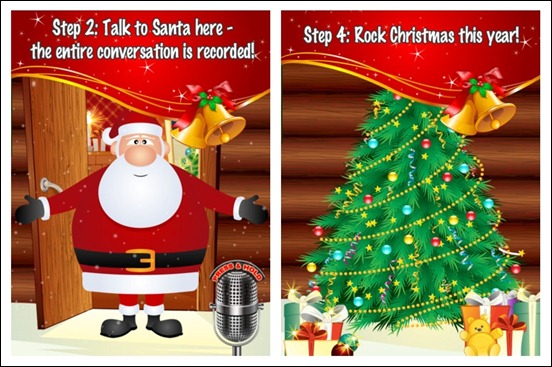 Tell Santa Claus is an all new multi-purpose holiday app that's sure to make this holiday season unforgettable! Knock on Santa's door and come in to a magical Christmas experience filled with music, dancing, and fun! You'll have a fun back and forth talk with Santa, while the entire conversation is automatically being recorded and saved to your phone!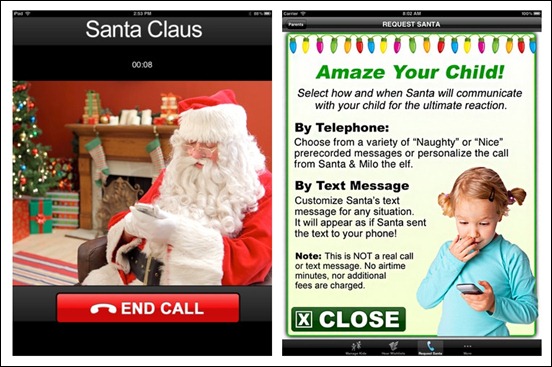 Want Santa to call your child on demand? There's an app for that! Call, and get called, with your personal direct line to Santa. Santa's Magic Phone Deluxe is an essential tool that every parent and child should have for 2012.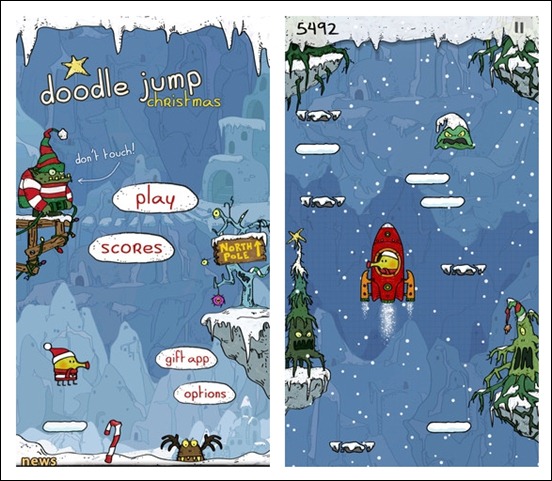 An beautiful special Christmas version of the iOS apps Doodle Jump.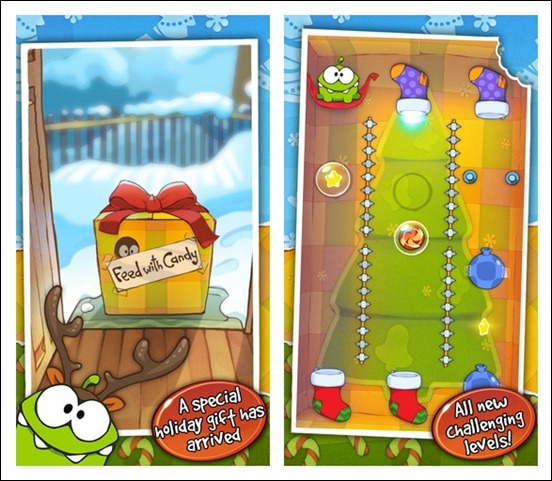 Holiday Gift combines outstanding physics, devilishly tricky levels, and bright colorful visuals with a festive winter feel. Shake your iPhone for a special surprise! Swipe your finger to cut the ropes and feed Om Nom candy. Dont forget to collect stars as you play! Think before you cut, and be sure to avoid spiders, spikes and other obstacles… getting that candy to Om Nom wont be easy!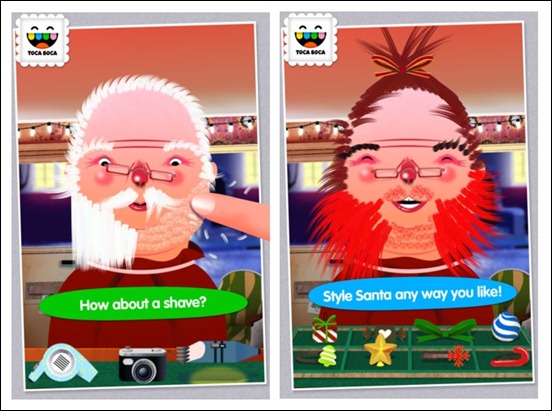 Cut, color and style Santa Claus beard and hair! Let your kids run their own Christmas themed Hair Salon! Cut, color, comb and blow-dry lifelike hair on two different cute characters. Using your fingers you can make any hair style you want! And of course – take a snapshot and save your creations!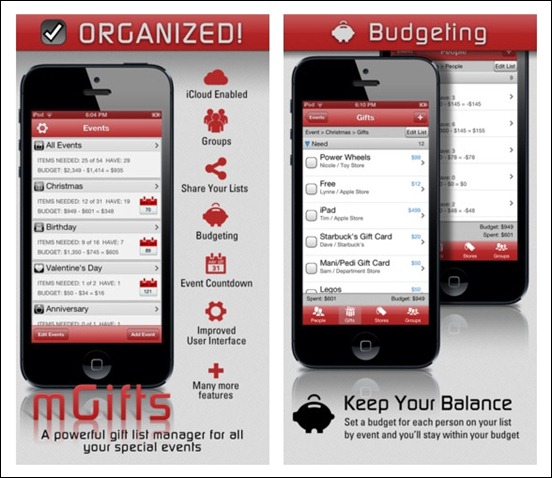 mGifts organizes your gift giving by keeping you on budget and managing your gift list to make sure your friends and family get a great gift from you. mGifts for iPhone, iPad or iPod Touch makes it easy and convenient to see how many gifts youve still need to get, how many gifts you have purchased and how much money you've spent on each person or group. mGifts also allows you to view your gift list by store, event, group or person helping you stay on budget while giving you the assurance that you're not missing anyone when it comes to celebrating those special days of the year.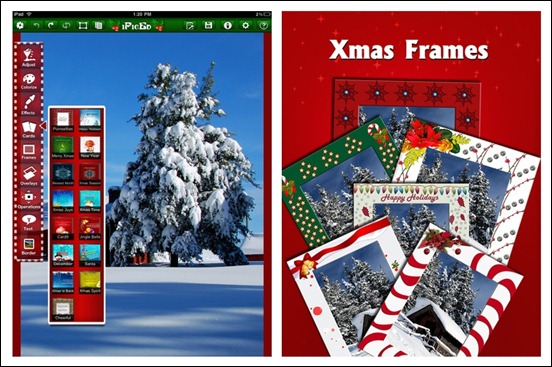 This Christmas send out greeting cards to your friends and family through your iPhone. iPicEd Xmas brings to you a variety of Christmas greeting cards, Christmas photo frames and Christmas theme overlay effects to add to your celebrations. Beautify your photos by editing them, adding frames and overlay effects and share with your loved ones through email or Facebook.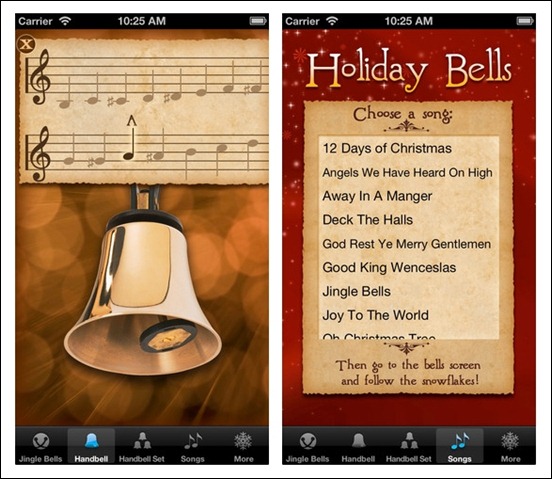 Play Christmas songs on the hand bells with Holiday Bells! Now for iPad, iPhone and iPod touch! It features 16 tap-along Christmas songs, with favorites like "Jingle Bells", "Away in a Manger", "Joy to the World", and more. Scroll the songs list to see them all. Select a song from the list, then follow the snowflakes to play it on the bells! Very easy to play – no music experience required!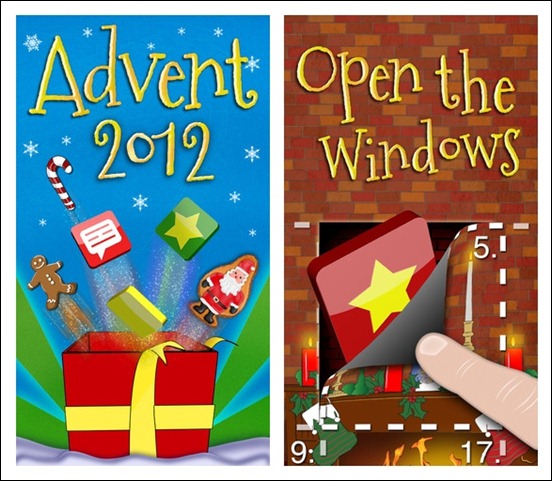 25 free festive apps are fun for all the family, and great for gamers. With its exclusive little gifts, theres something special for everyone to enjoy! With an amazingly beautiful graphics you can watch as the warm, cozy fireside scene is brought to life every time you discover a brand new gift. See if you can spot the changes as we prepare for Christmas!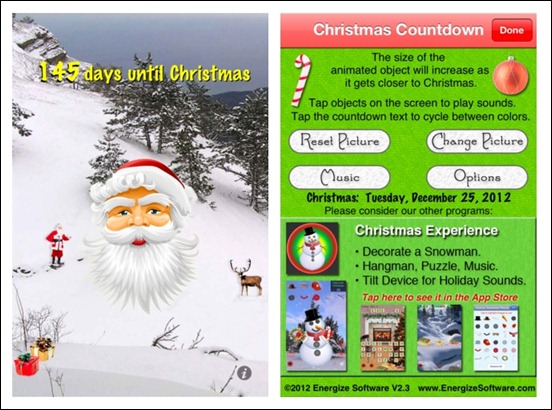 See the number of days countdown until Christmas, listen to holiday music (built-in or your own), and see an animated Santa/Christmas tree/snowman that gets bigger as Christmas gets closer displayed on the included background image or use your own picture.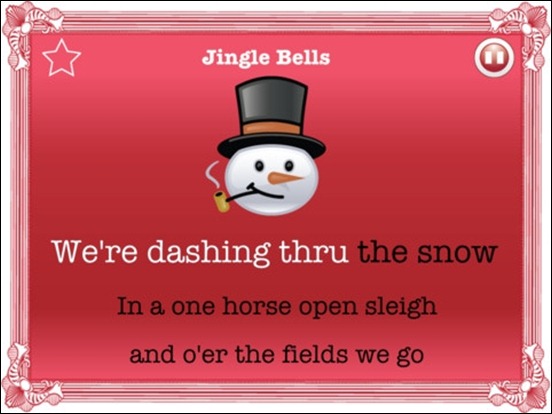 Love to sing along to Christmas Carols, but can't always remember all the words? Or simply wish you knew more carols to sing? Then get our handy little Christmas Carol karaoke-style app. Use this app to brush up on your carols or take it door-to-door to bring friends and neighbors Christmas cheer. This app provides hours of family fun as well. So, don't wait, Christmas is right around the corner and everyone can always use a little extra Christmas spirit!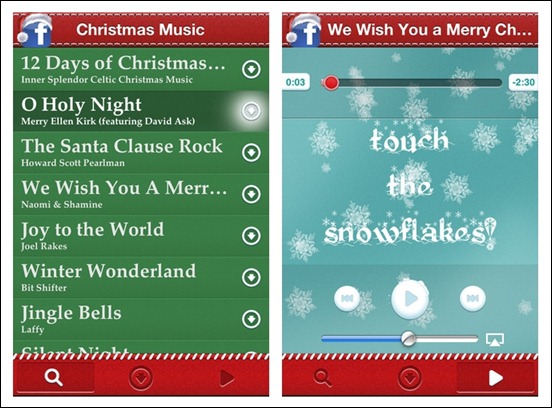 Choose from thousands of free and legal holiday songs! All of our music vetted to be from creative commons or independent musicians looking for more exposure. Download classic and new holiday music tracks, all for free.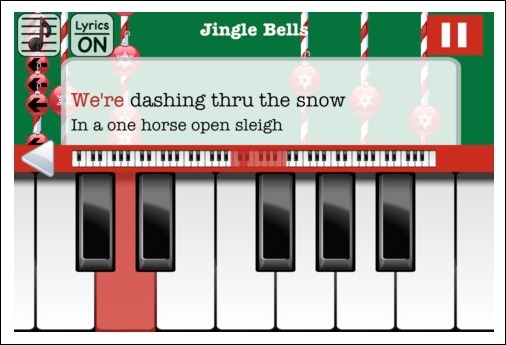 Play along and sing along to Christmas carols on a real piano right on your iPhone, iPad, or iPod touch! Guaranteed to get you in the Christmas spirit, this piano includes some of the most popular Christmas carols. Every song includes sing along lyrics that highlight in time with the music making caroling easier than ever! You can also learn to play Christmas songs geared for all ages and skill levels!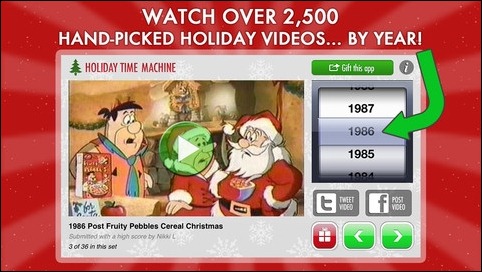 Select a year and watch amazing holiday television, commercials, music, trailers, and more! Discover awesome videos and share them on Facebook + Twitter! Step back into whatever era you fancy, the "Holiday Time Machine" way!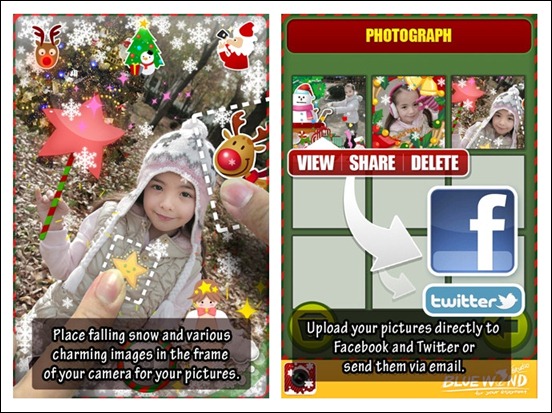 Now, on your iPhone, you can install "White Christmas" for free! Create beautiful memories of a snowy Christmas with your loved ones and friends anywhere, anytime with "White Christmas".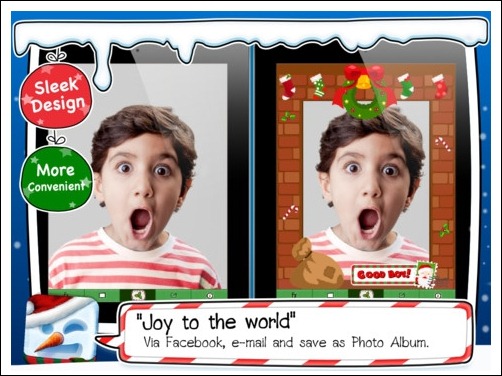 Santa is coming and he has a big bag which full of special gifts; Christmas items, Christmass tree ornaments, Santas face accessories and a lot more happiness for you in this Seasons greetings.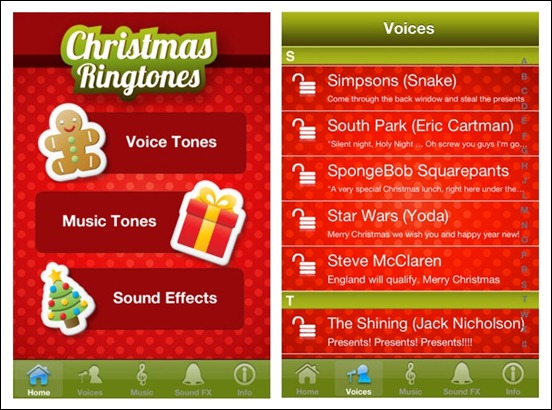 Christmas is the ultimate ringtone application to join in the festive spirit. Select from Voice Tones, Music Tones and Sound Effects to bring a little Christmas magic to your phone. Christmas features sound-alike Voice Tones, wishing you Christmas greetings in the trademark style of top TV characters, as well as classic Christmas carols and seasonal sound effects.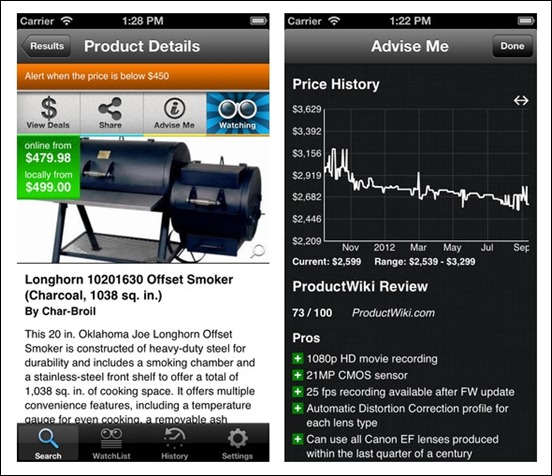 This holiday season, save time and money. ShopAdvisor keeps track of your gift list, and notifies you when the products you want go on sale or when out-of-stock items are back on the shelf. ShopAdvisor has already sent price alerts worth more than $38 million in savings on more than 700,000 products.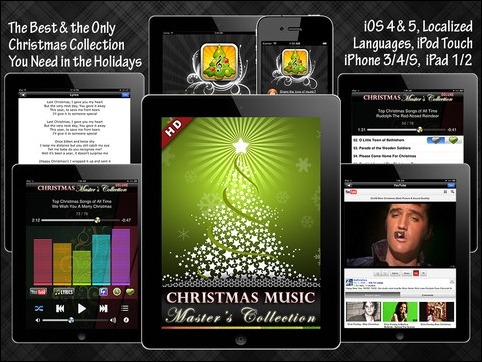 This Christmas App puts 80 greatest holiday hits of all times right in your pocket! Enjoy 80 the best Christmas Classics in style, anywhere, anytime, on your iPhone or iPad with no internet connections! Experience a list of most famous and beloved Christmas songs that's been heard again and again in every Holiday Season!